When was the last time you had your kitchen remodeled? Is the roof leaking, the cabinets falling down, and the floor breaking? If you answered yes, according to kitchen remodeling Columbus, Ohio, it's time to renovate your kitchen. When you've made your choice, the real fun begins. The next thing you know, you've got a dream kitchen that you can't stop thinking about.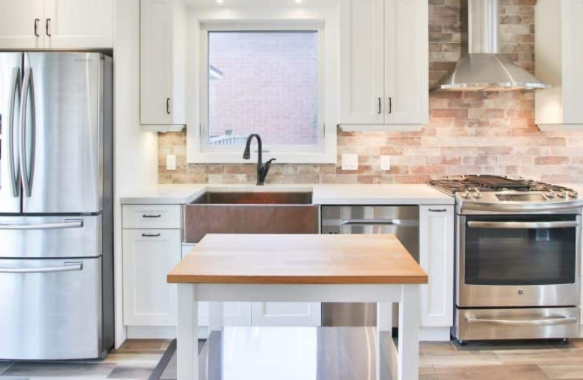 Every time you walk into your kitchen, you see it. You've been up all night saving photos and looking for inspiration on Instagram and Pinterest. But then there's the real issue. How much would it cost to remodel your kitchen? How far would it set you back? What is the most costly aspect of a kitchen renovation? Let's take a look!
You may be tempted to assume that replacing your sink or installing a new countertop is the most expensive aspect of a kitchen remodel. Nonetheless, studies show that the construction of new cabinets takes up the bulk of a kitchen renovation budget. The national average cost of kitchen cabinet construction is $5,028, according to HomeAdvisor, with costs per linear foot ranging from $100 to $1,500 depending on whether you choose stock, custom, or semi-custom cabinets.
Apart from the countertops and wall tile, the cabinets are one of the first items that many people encounter as they walk into a kitchen. Cabinet installation costs vary widely depending on a variety of factors, including the materials used to construct them, the cost of removing the old cabinets, and the level of attention to detail needed to set up the new ones. Here's a breakdown of each of these three variables.
Kitchen cabinets, unlike other home furnishings, cannot be placed at random. Even minor mistakes can result in damaged walls or cabinets that do not open or close properly. As a result, it is strongly advised that you employ an experienced specialist to safely mount them. In most cases, the expense of installing new kitchen cabinets is between 40% and 50% of the cost of the cabinets themselves.
In general, the more durable a material is, the more expensive it is to make and install cabinets out of that material. Solid wood (oak, maple, walnut, and so on) is, for example, extremely sturdy and usually costly. Particle board, on the other hand, is made from wood and sawdust and is considerably less expensive, but it is also less durable. Medium-density fiberboard is also one of the most affordable kitchen cabinet materials.
If you don't want to use wood, you can opt for laminate or thermofoil for your cabinets instead. Both products are generally low-cost and long-lasting (especially high-pressure-treated laminate).
In some cases, hiring the same professional for both the removal of your old cabinets and the installation of the new ones will save you money. Refacing (or refinishing) your old kitchen cabinets is your only choice if you don't want to remove them. Filling hardware holes with wood putty, sanding all cabinet surfaces, and applying a coat of primer before spray painting them with a paint sprayer are common steps in the refinishing process. To avoid confusion, it's a good idea to mark each cabinet opening with a number before starting this method.
Finally, make sure that your kitchen cabinets (and the rest of your remodel) are in keeping with the colors and design of your house. You can also save money on your new cabinets by doing a few things. You have the option of installing cabinets with fewer drawers, limiting the amount of customization (if you want to customize), and not glazing your cabinets. If you have the required equipment, you can also remove the cabinet on your own.