I don't know about you guys, but we have a love-hate relationship with gold.  The "new" gold you see floating around store shelves and all over blog-land is right up there with our favorite design trends right now.  We're using lots of this "new" gold all over our home.
Like with this fun little end table we snagged on clearance from Target:
Or the planter we transformed with a stencil and some gold paint:
And this is one of my absolute favorite design photos using gold:
But then there's brass.   The brass that can leave my home forever and never come back.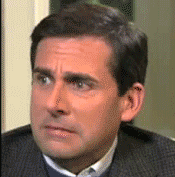 It's everywhere I look.  Every time I enter a room it smacks me in the face.  What is it, you ask?
Can we get a collective sigh?  We have about 30 door knobs that reek of the 80′s.  Not to mention the fact that all of our interior doors are an off-white yellowish color that makes me cringe.  Not cute.  Especially next to the white trim.  Dude, it's bad.
Luckily, thanks to our man Derrick at D. Lawless, we are now down to 29 knobs that need replacing.   With the bathroom makeover, we painted the door a fresh coat of bright white (why anyone would paint them butter-cream yellow to begin with is beyond me?!), and replaced the old knob with updated satin nickel hardware.
SO.MUCH.BETTER!  Having this door updated has prompted us to go ahead and replace all the other door knobs throughout our home.  Especially because D. Lawless's prices are far below Lowe's and Home Depot.  And we're always happy to support small businesses anyway.  I love me some retro, just not on doors, yo.  I can't wait to look down the hallway and see satin nickel!
Speaking of updating, in our bathroom makeover, we also gave our vanity a makeover, which included replacing the knobs.  We opted for these modern stainless steel pulls to compliment everything else that's going on in here.  At $2.29 a piece for a 7 inch pull, you can't beat it.
These are hot in home renovation right now, but I also feel like they'll stand the test of time.
Either way, we are really liking how they've got some weight, which balances with the thick granite top.   In the shot below you really get a feel for how the chiseled edge granite looks.  It's so unique!
Have a brassy day!  Oops, I mean classy.