I've been bopping around from topic to topic lately.  I hope you guys are cool with that.  After all, variety is the spice of life, baby!
OMG…I love this pic. I wish I had time to paint my nails periwinkle-purple.  That's a lot of effort though.   And for some reason the paint always chips in like, less than 24 hours.  Girl problems.  If anyone knows how to make it not do that, please tell me! Anyway, throw on some bracelets?  I can handle that.
Alright!…let's talk details! And by details, I mean accessorizing our little bathroom! Accessories can easily be forgotten, but they are often the first things people see when they enter a space, so they are important!  We found some awesome stuff at Wayfair!
We went with chrome faucets for a timeless look, and to carry that through the rest of the bathroom, we chose a modern chrome shelf to hang over the toilet.
This shelf is the PERFECT alternative to exactly what we didn't want, and that was a traditional, big & bulky cabinet. With the new glass shower and the open and airy feel inside this shelf gives a little bit of storage, some display room and doesn't take away from anything in the bathroom.
We also got a new TP holder for the bathroom that is solid, sturdy and looks great! We love it because….ehh nevermind, nobody wants to hear about TOILET PAPER HOLDERS….so moving on!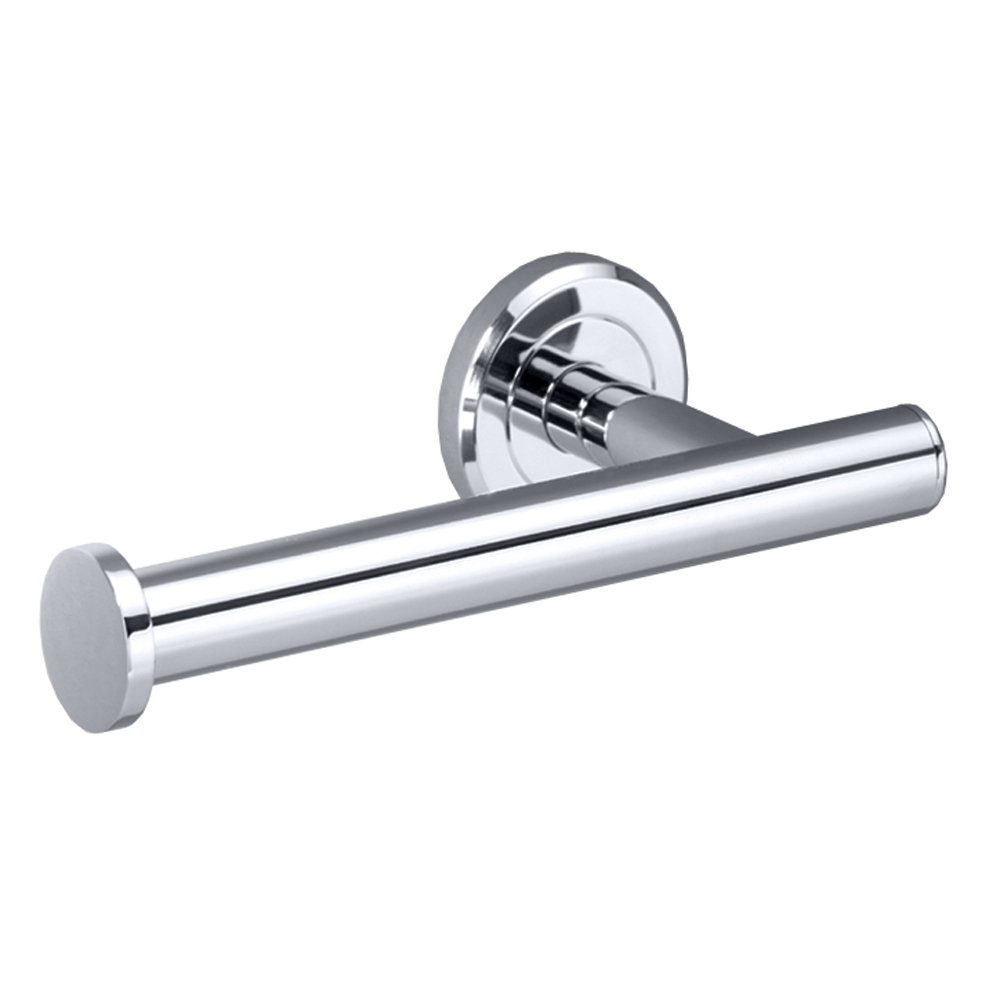 Moving on to the towel rods.  A HUGE pet peeve of mine is getting out of the shower only to find my towel still damp from the last time I showered.  (Especially in the winter time.  I know, I know, I live in Florida, so I should just shut up about being cold!)  Unfortunately, sometimes this happens in our guest bath because we hung towel hooks instead of rods.  Because there is so much humidity in Florida, when towels are hung on hooks, it can take forever for them to dry at times.  So we made sure to go with rods for our master bath.
Here is a link to the mounting posts and to the bar itself.  There are a couple different post options, and we liked the "square-ish" look.  These look like chrome, but they are actually plastic.
SPOILER ALERT! …TIP AHEAD!
Here's the deal. Towel rods range anywhere from $5 to $500….I know, right?  Craziness!  Well, we decided to go the inexpensive route on the towel rods because I had a trick up my sleeve!  Just add some contractor adhesive (aka heavy duty super glue) to the inside of the mounting post, attach the bar, then screw into the door. This stops the bar from wiggling, so it feels like one piece & more expensive!
By the way, John calls the contractor adhesive "pookie". Which apparently is what "construction guys" call this stuff…ummm…gross.
And last but not least, a cute soap dispenser is a must!   We wanted one that is clean, and also tall enough for our sit-on-top vessel sink.  We chose this Cosmopolitan Stripe Soap dispenser:
Simple and classy, perfect for our new bath!  We put a crazy amount of work into all the major changes happening in here, but the small things mean just as much!  Having said that, I probably should go paint my nails now…
Note:  The sweet folks at Wayfair so generously provided our new bath accessories you saw in this post.  All opinions and ideas are our own.